Freedom Is Not Free
Superintendent Corner Column
November 2019
"There is nothing wrong with America that faith, love of freedom, intelligence, and energy of her citizens cannot cure." Dwight D. Eisenhower
Today is Veterans Day. No long holiday weekend held in anticipation. Few commercials with unlimited sales.
But Veterans Day marks an important day nonetheless that honors those who have committed themselves to a cause greater than themselves. My father-in-law Colonel Jack A. Smith rests at Arlington National Cemetery and dedicated his life to protecting others. Many of you have family or friends who have similarly served. Veterans Day is a day that should bestow gratitude to the men and women who have sacrificed for you, for me, and for all of our families. They have given of themselves for the freedoms we enjoy. They have dedicated their lives to an ideal that many of us will never truly comprehend.
Freedom is not free. Yesterday marked a national remembrance tribute to those who have and continue to serve and protect our country. But making our appreciation known should go well beyond a Facebook like or Twitter retweet. Our veterans have sacrificed and deserve so much more from each and everyone of us.
Sgt. Brett D'Alessandro, a 2010 Verona High School graduate, is one of our very own. He too has served our country. But he saw a need when he returned from his service and founded Backpacks For Life, an organization that supports struggling and homeless veterans with knowledge and resources so they can return to a path of self-sufficiency. I am making a personal commitment to Backpacks For Life this November in honor of all of our veterans. Each of our schools will also be making a similar commitment collecting items and contributions as noted below in the attached flyers. We hope you will decide to join us in helping make a difference in the lives of so many veterans who continue to make a difference in all of our lives. Lastly, remember the best expression of gratitude is when you see a veteran, thank a veteran.
Learn more about this effort by visiting www.backpacksforlife.org
#ServingOurVeterans #BackpacksForLife #SupportOurVeterans
All my best,
Dr. Rui Dionisio
Superintendent of Schools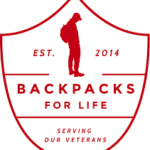 Backpacks For Life's mission is to provide a unique and personalized support system for homeless and at-risk veterans who are struggling to reintegrate back into civilian life. We want veterans of all eras to be able to seamlessly and confidently reintegrate and thrive in civilian life; equipped with the right tools and solutions to do so. Through our two main programs, we are able to effectively support and empower our veterans, reigniting the flame inside of them.
Sgt. Brett D'Alessandro returned home from a 7-month deployment in Afghanistan to what he thought was the end of a long road. He learned very quickly that an even longer road filled with struggle & confusion lay ahead. After a challenging deployment, Brett and those who he returned home with, were now facing the hardest part of deployment; reintegrating into their civilian lives while battling with the hidden wounds of war.
After having a face-to-face encounter with a homeless veteran on the streets of Rhode Island in the winter, something resonated with Brett. It was not just him or those he deployed with or this man on the side of the road…it was MANY veterans, nationwide, dealing with the issues of coming home and not knowing where to turn. Brett took this moment as a sign to do more and be more for his fellow servicemen and women. That day, Brett distributed the first backpack to this veteran filled with socks, t-shirts and warming layers. From this…Backpacks For Life was born.
Since 2014, BFL has devoted their life to making sure no veteran has to suffer by providing them with the correct tools to recover which include coaching veterans, breaking bread with veterans, making them feel human and letting them know they aren't alone. This is done through countless hours of personal interaction and the physical distribution of backpacks. Backpacks represent the first line of defense, a symbol of hope and much more to the team at Backpacks For Life.