Promise Made. Promise Kept.
"The power of imagination makes us infinite." John Muir
June 18, 2023
From the beginning, we recognized the significance of involving our community in our strategic planning initiative. The input and perspectives of our diverse stakeholders are vital in creating a plan that truly reflects the needs and aspirations of our students, parents, teachers, staff, and community members. Your active engagement as stakeholders, through survey feedback, focus groups, and other initiatives, has been instrumental in shaping the future of our educational community and demonstrated our commitment to our shared goal of educational excellence.
Over the past year, our Strategic Plan Steering Committee embarked on a significant journey to provide direction for the future of our schools. Through countless hours of listening to community feedback, collaborative discussions, brainstorming sessions, and thoughtful consideration of diverse perspectives, we have collectively crafted a comprehensive strategic plan that lays a solid foundation for our future success.
I have witnessed the passion and enthusiasm with which our team has approached each meeting, showcasing a genuine commitment to excellence and an unwavering belief in the transformative power of education. Their ability to work together as a cohesive team, fostering inclusivity and open dialogue, has been inspiring. Each committee member has brought unique insights and perspectives to the table, enriching the depth and quality of our strategic plan. Through effective collaboration, they have successfully aligned our goals with the broader vision of our district, ensuring our initiatives are forward-thinking and student-centered.
Developing our new five-year strategic plan required dedication, time, and effort, which has been instrumental in shaping our strategic plan. Extensive research, relevant data collection, and best practices analysis have not gone unnoticed. We are deeply grateful for their unwavering commitment and willingness to go the extra mile.
Our new strategic plan will serve as our guiding light, leading us toward our shared vision of educational excellence and continuous improvement. Our community's invaluable insights, ideas, and feedback have shaped the direction and priorities of our strategic plan, ensuring that it aligns with the values and aspirations of our community. We express our utmost gratitude and admiration for each one of you who contributed your exceptional efforts and unwavering commitment to providing insight that helped shape the goals that will help guide the future of Ramapo Indian Hills Regional. Go Po! Be Brave!
Wishing you a happy Father's Day!
With deepest gratitude,

Dr. Rui Dionisio
Superintendent of Schools
Watch the Strategic Plan Video here: https://www.wevideo.com/view/3116810315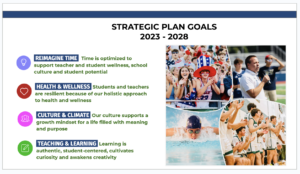 Read the RIH Strategic Plan Presentation here: https://tinyurl.com/RIHStratPlan2023
View the complete Strategic Plan here: https://tinyurl.com/RIH-StrategicPlanFull
Learn more by visiting: https://www.rih.org/strategic_plan